Levaquin and Prednisone
Are a Dangerous Combination
Levaquin and Prednisone are a dangerous and potentially disabling combination. Learn why you should NEVER EVER EVER take these two drugs together- despite the fact that they are frequently paired together for conditions such as respiratory conditions and Levaquin Sinus Infection treatment.
Levaquin is a commonly prescribed antibiotic in a class known as the Quinolone Antibiotics, which are known to be so incredibly toxic that 11 of these antibiotics have already been removed from the market due to dangerous side effects. You can see a full List of Quinolones here. Among these side effects is a condition called Levaquin Tendonitis or Cipro Tendonitis that can cause problems from mild tendon pain all the way up to deadly conditions such as Aortic Aneurysm.

Levaquin and Prednisone
Are a Bad Drug Interaction

There are also close to 150 Levaquin Drug Interactions that can increase this risk of toxicity and/or contribute to other problems. Problems such as anxiety and panic attacks are common problems related to Levaquin that are usually dismissed as being a psychological problem rather than the true reaction from the drug and it's many interactions.
One of the most important Levaquin Drug Interactions that you should be aware of is that between Prednisone and Levaquin- including ALL other steroidal anti-inflammatory drugs. Prednisone is a 'Steroidal Anti-inflammatory Drug' that is used in severe cases of inflammation such as occurs in the airways during asthma attacks or in the joints in cases of rheumatoid arthritis.
Prednisone also has it's own set of serious Prednisone Side Effects that should make you think twice about taking this drug- especially multiple times or over the long term. Together, however, this drug interaction can make you a terrible mess.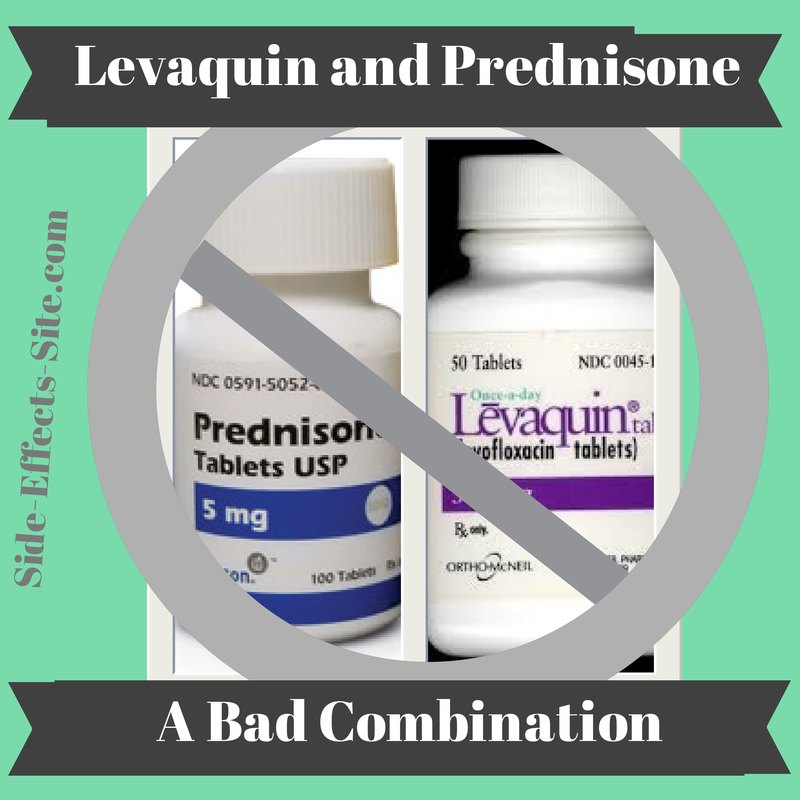 Before you take this Levaquin Prednisone drug combination, be SURE that you read the pages on:
FQResearch.org- a website dedicated to educating the public about the dangers of this class of antibiotics. 

These pages will help you to be informed about the risks you expose yourself to by taking these drugs, such as DNA Damage.  You already have a serious chance of having these toxicity problems if you take Levaquin by itself, but this chance is increased when you take Levaquin along with Prednisone or any other steroidal anti-inflammatory drug at the same time, or even if you take Fluoroquinolones and Alcohol.

And with the possible severity of symptoms and reports of LIFELONG disability from the use of these drugs, you are taking a huge risk by taking these drugs together. Taking Levaquin by itself is dangerous enough, adding Prednisone at the same time is sheer folly when you understand how horrible and damaging Levaquin Toxicity is.
Make sure that you understand the risks of taking Levaquin and Prednisone together before you risk your entire health and quality of life. There ARE effective substitutes for Levaquin that don't have the risks that Quinolone Antibiotics do. If you have serious chronic health problems, there really ARE effective diet and lifestyle changes that you can make that can help you to reduce and even eliminate your symptoms that require you to take these drugs in the first place. Keep reading to find out more about why Levaquin is such a dangerous drug...
Next --->
Side Effects of Levaquin

Back to Top of Levaquin and Prednisone

To Side Effects Site Home Page
Have You Had Levaquin Tendonitis
or other Side Effects of Quinolone Antibiotics
If you have symptoms of Levaquin Tendonitis or other side effects of Quinolone antibiotics, tell us your story or ask your question. Whether it's funny, sad, tragic or heartwarming- we want to hear it!!

IMPORTANT: You MUST leave your email address in order to get a response!!! I promise, it will NOT be shown nor will it be used for any other purpose!

TIP: SEE above!!
See Other Submissions about Levaquin Tendonitis and Quinolone Antibiotics
Click below to see contributions from other visitors to this page...