Pneumonia
Urinary Tract Infections
Tuberculosis
MRSA Skin Infections
Surgical Infections
and many other infections depending upon the offending bacteria causing the problem. While the
Quinolone Antibiotics
and drugs such as Moxifloxacin may be effective and necessary in the case of life threatening infections, there is a dark side to Avelox side effects. This drug has some seriously problematic and potentially permanently disabling side effects...
Avelox Side Effects
The Common Side Effects of Avelox are the same as most other Antibiotic Side Effects. Problems such as:
Diarrhea
Candida Overgrowth
Are easily avoided by making sure to take a high quality probiotic such as Prescript Assist Probiotics during and after you are taking the antibiotic therapy. It's not the common side effects that are worrisome, however, it is the uncommon side effects that are incredibly worrisome.
Black Box Warning for Avelox Side Effects
A 'Black Box Warning' for any drug is the STRONGEST warning that can be given by the FDA for letting health care practitioners and the public know about the dangers of a particular drug. Avelox, as do ALL of the Quinolone Antibiotics, DOES have a black box warning for the problem of tendon rupture in a small amount of people.

While this problem, known as Cipro Tendonitis or Levaquin Tendonitis, no matter which Quinolone antibiotic caused it, is considered 'rare', when millions of prescriptions for Quinolone Antibiotics are being written every year, even if less than 1/2 of 1% of people are affected (usually considered a 'low' rate of problems), this could lead to tens of thousands of cases of Levaquin Tendonitis every year. And with the drug still being on the market this means that EACH year tens of thousands MORE people are being affected every year.

Cipro Tendonitis and
Tendon Rupture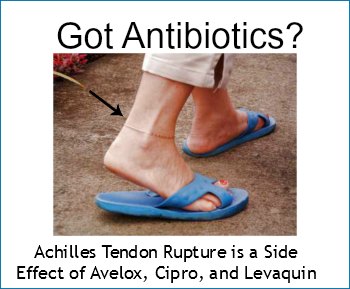 What exactly IS Cipro Tendonitis? It is one of the Avelox Side Effects, and it causes direct DNA Damage to tendons, cartilage and other connective tissue of the body. 
This tendon damage can cause anything from no symptoms at all to slight pain that goes away by itself in a short time - to complete RUPTURE of the tendon requiring surgery to repair.
Yes, I said Tendon Rupture- from an Antibiotic!!
While there ARE some measurable 'risk factors' that can contribute to the problem, it's rare that these risk factors are taken into consideration before doctors prescribe this drug. And in the case of one risk factor for tendonitis and tendon rupture, the use of Avelox or Levaquin and Prednisone, these drugs that are incredibly damaging when ACTIVELY given together as a treatment for respiratory problems!

Yipes! That is a BIG slip up that is done unknowingly all of the time by many doctors. In in any case there have been thousands who have experienced tendon rupture who didn't have any of these obvious risk factors before experiencing these severe Avelox side effects and becoming disabled. 

Disabling Levaquin Toxicity
is Another Problem
Unfortunately, tendon damage and rupture are not the only Avelox side effects that can be painful, uncomfortable and disabling-  sometimes for life.  A condition that is known as 'Levaquin Toxicity' by those who suffer from it causes an entire spectrum of problems including:
Neurologic symptoms such as difficulty walking, slurred speech, and brain fog

Pain in: muscles, joints, tendons or just all over body pain

Mood problems like anxiety, depression, panic attacks and insomnia
What's the Solution
To Cipro Tendonitis?
Click to Find Out
And the symptoms go on and on. Even worse, this 'syndrome' is not even recognized as having been caused by the
Quinolone Antibiotics
. Therefore the entire medical profession denies that this problem exists while tens of thousands suffer, get told that it is in their head or get diagnosed with problems like 'Fibromyalgia' and 'Chronic Fatigue Syndrome' that doctors have no real tests for and that they are equally ineffective at helping people suffering from these.

Low Risk for Your DOCTOR!

Doctors, the FDA and researchers consistently state that there is a low risk of
Avelox Side Effects
. While this might be true for THEM, it seems like a lot higher risk when it's YOU you might have to be the one to live with the long-term
Side Effects
. To further this problem, there is just no way to know ahead of time exactly WHO is going to be the 'Rare' person to experience these problems with Avelox and the other Quinolone antibiotics. With less than 1% of people who become disabled, chances are that it's not going to happen to you. But unlike in Las Vegas, if you lose -you lose a LOT more than your money. Only YOU can decide if the risk is worth it and you can only make a real decision if you have the facts. There are many suffering from the side effects of Moxifloxacin, Levaquin and Cipro who now say, "If I had known that there was even a possibility of this happening, I would have never taken that drug." Well, I'm here to inform you that there
IS
a possibility- however remote.
If You Have Avelox Side Effects
If you are experiencing any of the side effects of Avelox, especially Levaquin Tendonitis and Levaquin Toxicity, then you have a PROBLEM!! These symptoms
DO
go away on their own in some people, but for others these severe symptoms are there for life and doctors simply do NOT have any help or answers to improve this situation.
Just because your DOCTOR does not have any answers, however, doesn't mean that there AREN'T answers. Solving the problem of Quinolone Toxicity is our PASSION. Both authors of this website- see the
About Me Page
on my main website Easy Immune Health- have been researching and working with people suffering from Levaquin Tendonitis and Levaquin Toxicity in our private practices and have developed a comprehensive step-by-step plan to get you relief from your symptoms and back to living a normal life. Take a look at
The Levaquin Tendonitis Solution
and find information on getting well again that you will NOT find anywhere else…
Next --->
The Levaquin Tendonitis Solution


Have You Had Levaquin Tendonitis
or other Side Effects of Quinolone Antibiotics
If you have symptoms of Levaquin Tendonitis or other side effects of Quinolone antibiotics, tell us your story or ask your question. Whether it's funny, sad, tragic or heartwarming- we want to hear it!!

IMPORTANT: You MUST leave your email address in order to get a response!!! I promise, it will NOT be shown nor will it be used for any other purpose!

TIP: SEE above!!
See Other Submissions about Levaquin Tendonitis and Quinolone Antibiotics
Click below to see contributions from other visitors to this page...

Back to Top of Avelox Side Effects
To Side Effects Site Home Page